lessons from the "Social Media Election"
By
Pat Law
• May 16th, 2011 • Category:
Lead Story

Worker's Party Election Rally. Open field, Hougang Ave 4 • Image courtesy of Zakaria Zainal
Many have referred the General Election of 2011 (GE2011) as the "Social Media Election", with the country's unprecedented use of the Internet for political campaigning (disclaimer: I violently protest the use of the term 'new media' for the media has long outlived its expiry date of freshness). Lowering the barriers of entry into political awareness, sensibility and in some cases, sensitivity, Social Media provided a new communications platform for both the ruling People's Action Party (PAP) and Opposition parties alike.
All competing political parties created Facebook pages in an attempt to reach out to some estimated 2.4 million users from Singapore1. For the more digitally savvy parties, both Twitter accounts as well as YouTube channels were created as well. The online buzz on the General Election grew and spread to such an exponential level, there was enough critical mass for data visualization engines to be utilized. Such engines include the Singapore GE2011 Tracker by Swarm and JamiQ, as well as a light-hearted version, Party Time, by Tribal DDB and Brandtology.

The Worker's Party • Image courtesy of Animal Kaiser (S'pore)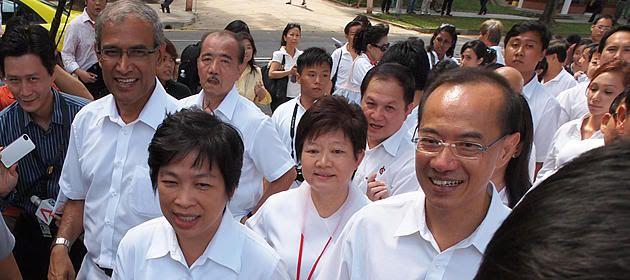 People's Action Party • Image courtesy of Animal Kaiser (S'pore)
In spite of a seemingly drastic dip in vote share by approximately 15 percent since the 2001 General Election, the PAP government returns to power with a vote share of 60.1% as of 8 May 2011. The victory is not without experiencing any casualties. In a historical victory that looks set to make its way into our history textbook in due time, The Workers' Party won Aljunied Group Representation Constituency (GRC) with 54.7 percent votes, leaving PAP with 45.29 percent votes, and the loss of 3 prime assets; Foreign Affairs Minister George Yeo, Second Minister for Finance and Transport Lim Hwee Hua, and Senior Minister of State Zainul Abidin Rasheed.
Was Social Media the silver bullet that shot through the hearts of its citizens? Did Social Media mobilize an otherwise infamously apathetic nation of Singaporeans to be politically aware? Did Social Media cause Kate Spade sales to dip further than PAP's vote share?
The discerning strategist will vehemently dismiss any suggestion of relativity between the sentiments captured in the social media realm and the voting results of GE2011. This is because there is neither sound methodologies nor consistent base of respondents to churn any data accurate enough for an analysis. To strip market research to its fundamentals for better comprehension – one may "LIKE" multiple political parties' Facebook pages but one may only vote for a political party for government. The latter is undoubtedly, a more valuable human right that requires greater investment of thought. How are we to judge, when the variables are not kept constant?
Whether online popularity of the political parties translates to actual votes remains a mystery as much the intelligence the 242 voters have when they casted their votes at Potong Pasir straight into invalidity. To evaluate the galvanizing force of social media would be chasing one's tail, but still, there are lessons to be learnt.
1. LOI = LISTEN TO INFLUENCE
According to JamiQ, there were 80,372 unique tweets in relation to GE2011, excluding retweets since 15 April to 8 May 2011. A quick scan on Google revealed approximately 809,000 unique blog posts around the world, in the past month, around the elections as well. In a society where voicing one's opinion to an audience requires a permit, it is little wonder social media grew to be an outlet for the repressed and suppressed.
The changes to the Constitution and election laws have allowed campaigning through the digital space. Indeed, we have seen Facebook pages, Twitter accounts and YouTube Channels even, but I can't help but wonder, how many of these political parties were listening and conversing with their audience, as opposed to broadcasting? To put it blatantly, sharing your party's GRC manifesto on your Facebook Wall does not, a conversation make. That's just cheap advertising.
The concept of "Listen to Influence" is Old Testament Public Relations which one may forget when narcissism is in play. Speaking at a PAP press conference post GE results, PM Lee Hsien Loong appeared to have understood this concept well. "We have heard you on issues like the cost of living, housing, about our political system and values," said the PM.
2. CREATE A SOCIAL CURRENCY THAT INCREASES YOUR BRAND VALUE, DON'T DILUTE IT.
Social currency is a common term that can be understood as the entirety of actual and potential resources, which arise from the presence in social networks and communities, may they be digital or offline. In Marketing, social currency specifies the extent to which people share the brand or information about the brand as part of their everyday social lives at work or at home5.
Let me paint you an example – It's a Friday night, and you're out at the bar with a group of friends. One of your friends tells a joke. You find that joke funny and proceed to share it the next day with another group of friends. The joke is the social currency that contributes to your perception of your friend's personality. It contributes too, to the relationship your friend continues to build, with you, over time.
In similar fashion, brands (or political parties for that matter), need to find its social currency that is worth sharing between customers, consumers, and users of their brands. Don't let that social currency be about you stomping your feet in a way that would make Paris Hilton blush.
3. DON'T BELITTLE THE MEDIUM AND LEAVE IT TO AN INEXPERIENCED AND IGNORANT VOLUNTEER WITH SOCIAL DEFICIENCY.
Social Media is NOT Media. Here at GOODSTUPH, we focus on the social dynamics on different influencers rather than glorifying the medium. Ted McConnell, general manager of interactive marketing and innovation for Procter & Gamble, summed the misconceptions up best when he shared his views at Cincinnati's Digital Hub Initiative presented by the Ad Club of Cincinnati:
"I think when we call it 'consumer-generated media,' we're being predatory," he said. "Who said this is media? Media is something you can buy and sell. Media contains inventory. Media contains blank spaces. Consumers weren't trying to generate media. They were trying to talk to somebody. So it just seems a bit arrogant. … We hijack their own conversations, their own thoughts and feelings, and try to monetize it."
As soon as you establish your social media eco-system, you will need to hire a team of conversation and community managers. You need people who have high EQ and adequate social skills. People who do not selfishly force their own personalities upon brands so much so that the Public wonders if the brand's social media accounts are authentic. PAP's Twitter account, for example, is a classic example.
Note: Front page image courtesy of Party Time
SHARE THE LOVE